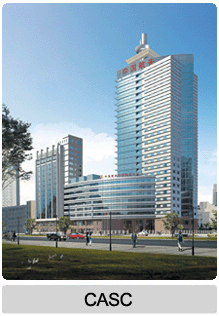 CASC, one of the Fortune Global 500 firms, is a large state-owned enterprise group with its own independent intellectual properties and famous brands, outstanding innovative capabilities, and strong core competitiveness. Originating from the Fifth Academy of the Ministry of National Defense established in 1956 and experiencing the historic evolution of the Seventh Ministry of Machinery Industry, the Ministry of Astronautics, the Ministry of Aerospace Industry, and China Aerospace Corporation, CASC was formally founded on July 1, 1999.
As the leading force of China's space industry and one of China's first innovative enterprises, CASC has 8 large R&D and production complexes, 11 specialized companies, 13 listed companies and a number of directly affiliated units. CASC is mainly engaged in the research, design, manufacture, test and launch of space products such as launch vehicle, satellite, manned spaceship, cargo spaceship, deep space explorer and space station as well as strategic and tactical missile systems. Its R&D and industrial facilities are mainly located in Beijing, Shanghai, Tianjin, Xi'an, Chengdu, Hong Kong and Shenzhen. Under the strategy of military-civil integration, CASC pays great attention to space technology applications such as satellite applications, information technology, new energy and materials, special space technology applications, and space biology. CASC also greatly develops space services such as satellite and its ground operation, international space commercial services, space financial investment, software and information services. Now CASC is the only broadcast and communications satellite operator in China, and the product provider with the largest scale and strongest technical strength in China's image information record industry. Over the past decades, CASC has made outstanding contributions to the national economic and social development, national defense modernization and scientific and technical progress.
At present, CASC is dedicating itself to building China into a space power, continuously carrying out the national major scientific and technical programs such as Manned Spaceflight, Lunar Exploration, Beidou Navigation and High-Resolution Earth Observation System; initiating a number of new major programs and projects such as heavy launch vehicle, Mars exploration, asteroid exploration, space vehicle in-orbit service and maintenance, and space-ground integrated information network; and actively conducting international exchanges and cooperation, thus making new contributions to peaceful use of outer space and benefiting mankind as a whole.